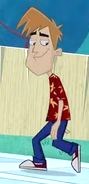 Douglas "Dougal" McDougal is one of the characters in Get Ace. He is Ace and Becky McDougal's father and Mrs McDougal's husband.
Depiction in the series
Edit
Dougal is the comedian dad of Ace and Becky as well as being Jeanie's husband.
Personality
Edit
Appearance
Edit
Dougal has pale brown hair and wears a red Hawaiian shirt with yellow flowers. He also wears blue jeans and red and white shoes similar to Ace's.
Relationships
Edit